Main Repeater – Up and Running!
145.210 (-0.600) 107.2PL
Simplex
145.570 (No Offset) (No PL)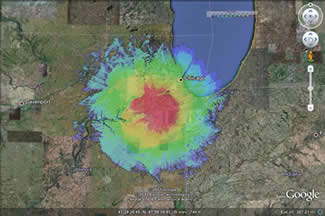 WB9IRL Propogation Map. (Click For Full Page)
A special thanks to KE5NAK For Your Work and Dedication.
---
Items we are in need of:
Power Amplifier
Voice Controller
Weather Station with Compatibility to Voice Controller – No Longer Needed (Thank you Terri!)
---
Donations
Cash/ Check donations can be sent in care of:
Illinois Radio League
14557 W. Edison Drive
New Lenox, IL 60451
Equipment Sponsorship's are accepted.
Please contact 815.462.6000 for more information